---

Stallions - Mares - Youngstock - Foals - Legends - Transport - Sales - Links - Contact
Nebo Liam
-
Nebo Bouncing Rocket
-
Nebo Thomas
-
Nebo Owen
-
Nebo Sion
---
Nebo Stud
Nebo Thomas 36447
Section D - Volume LXXII - Chestnut, blaze and four white socks. - Foaled 1991.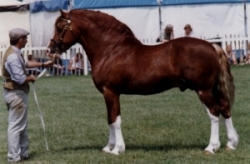 Nebo Thomas was born in May 1991. He has been regulary shown since a yearling. He won The Royal Welsh as a two-year-old and went on to be Reserve Youngstock Champion. As a three-year-old he went one step further and took the Youngstock Champion. The same year his half brother Nebo Hywel won The George Prince of Wales Cup.

He is producing lovely foals and passing on his kind temperament to his offsprings. He has been broken to ride and drive and is a pleasure to handle in any situation.
Nebo Brenin 12046
sec. (D) ch ro v.LV b. 1971
Parc Welsh Flyer 5861
sec. (D) b v.XLIX b.1966
Pentre Eiddwen Comet 1796
sec. (D) b v.XXXII b.1946
9977 Parc Lady
sec. (D) dk b v.XXXV b.1948
25836 Nebo Rosebud
sec. (D) d v.LI b.1968
Rhystyd Prince 3496
sec. (D) ch v.XLIV b.1960
15918 Nebo Welsh Lady
sec. (D) ch v.XLVII b.1963
71631 Tewgoed Janet
sec. (D) b v.LXIV b.1982
Nebo Daniel 17236
sec. (D) ch v.LIX b.1976
Nebo Brenin 12046
sec. (D) ch ro v.LV b. 1971
44811 Nebo Princess Ann
sec. (D) b v.LVI b.1973
59467 Tewgoed Magic Lady
sec. (D) bl v.LX b.1977
Nebo Black Magic 4370
sec.(D) bl v.XLVII b.1962
24899 Hewid Nesta
sec. (D) bl v.LI b.1968
---
owen@nebostud.com

---